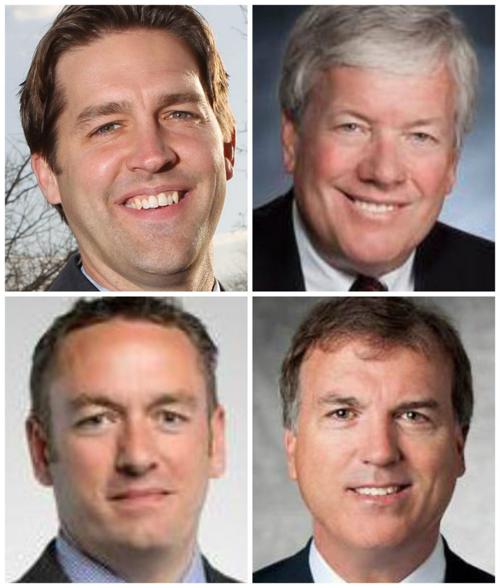 All four of Nebraska's Republican U.S. Senate candidates agree that the federal government has gone too far when collecting data about American citizens.
They all agree that it's an example of government overreach.
But they offer different approaches for fixing the problem.
Congress helps oversee the National Security Agency, whose collection of citizens' data has been a divisive issue in the Senate.
The government's data collection has grown since 9/11 — mostly out of the public eye until last year, when former government contractor Edward Snowden leaked specifics of the agency's programs to news outlets. The resulting furor has raised questions about where to draw the line between personal liberty and national security.
One of the most controversial actions has been the collection of bulk phone records of Americans. President Barack Obama called for new limits to that program in January.
Some, including Senate Intelligence Committee Chairwoman Dianne Feinstein, D-Calif., have defended the NSA, saying some data collection is essential to national security.
Others, particularly conservatives, have fought the agency. Sen. Rand Paul, R-Ky., has sued the federal government, challenging the constitutionality of the phone record collection.
All four Nebraska candidates — Midland University President Ben Sasse, former State Treasurer Shane Osborn, Pinnacle Bank Chairman Sid Dinsdale and attorney Bart McLeay — acknowledged the necessity of collecting information for national security. But they said the government needs to scale back its efforts.
Sasse said he thinks senators need to provide more checks and balances for the executive branch — even for a president from their own party.
"I think we have had a crazy abdication of the oversight responsibilities of the Congress, as political figures in Washington act as partisan figures first," he said.
He said the government should have the technology to keep up with important intelligence.
But it should not, he said, go so far as to read American citizens' emails or see who they're calling — unless officials obtain a warrant.
"I don't want the federal government to have that power," Sasse said.
Osborn worked closely with the NSA while in the U.S. Navy, where he flew espionage flights. He said he didn't know that the agency also was collecting information about Americans.
He said he sees the value in gathering intelligence, but he said that the Senate has failed to provide adequate oversight.
As a senator, Osborn said, he would apply more scrutiny to the agency. Osborn contends the Senate needs a post-9/11 combat veteran such as himself, and he said his military experience would help him make informed decisions about intelligence-gathering.
"Instead of just getting a brief and taking their word for it," he said, "you have to dig a little deeper."
Dinsdale said he's troubled by the secrecy and scope of the NSA's activities. He said the agency should be required to obtain a warrant for more of its data collection.
"We just can't have this president's people just monitoring all our phone calls and stuff just randomly," Dinsdale said.
He said that because some of the information is classified, the first thing he would do as a senator on this issue would be to learn more about the program than what is available to the public.
"It looks like from the outside just a morass of bureaucracy," he said.
He said Nebraska's next senator should be prepared to make decisions about privacy because technology will continue to change.
McLeay, who often speaks about freedom on the campaign trail, said citizens need more protection.
"I want to take whatever measures are necessary to protect United States citizens from another 9/11, but I also do not want to take actions that amount to a pretext for conducting invasive surveillance," he said.
The court that oversees the agency has found that it misrepresented some cases, which McLeay called "unacceptable and frankly outrageous."
He echoed others' calls for a public advocate to appear in front of the judge to argue against the agency and for stricter rules about what kind of information it can collect.
The winner of the GOP primary will face Democrat Dave Domina in the general election.